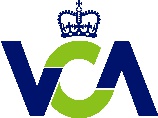 We are fortunate enough to work with a number of world class certification organizations / registrars. We would be happy to direct you to the correct people that can answer any of your registration questions. Below is a list of registrars we are associated with.
- Click the logo to go to the website. -

VCA
is the designated UK Vehicle Type Approval authority and with more than 30 years experience supports industry by providing internationally recognised testing and certification for vehicles, their systems and components. A leading Management Systems Certification body, VCA also provides certification to ISO 9001, ISO TS 16949, ISO 14001,OHSAS 18001, Acorn (a phased approach to environmental certification), EMAS and ISO 50001 (Energy Management Certification).

© Clark Quality Consulting 2018, all rights reserved.

INNAC
– National Institute for Conformity Assessment of Products is a Product Certification Organism accredited by INMETRO.

Innac was founded in Brazil in 2007 and has a highly qualified team along with the necessary structure to meet different scopes of product certification. We operate throughout the national territory and internationally offering our customers an agile, efficient and reliable service. The work done by INNAC has a supreme importance for consumer safety. To ensure the efficiency of our services, the company has a team of specialized professionals in the certification process. We work with subcontracted laboratories also accredited by INMETRO, or when allowed, evaluated by INNAC for the product testing.

United Registrar of Systems Limited
(URS Certification) is an independent certification body operating in more than 30 countries within the multinational URS Holdings. High quality and guaranteed services are ensured by the United Kingdom accreditation body UKAS, who carefully examine our certification processes and ensure our staff are highly competent in the fields in which they work. URS Certification works with the notable concept of Operational Safety, which presents customers with considerable added value including significant financial savings, and safe and smooth business operations.


UTAC CERAM
is a private, independent group providing services in all areas of land transport: Regulation and Approval, testing and technical expertise (environment, safety, durability and reliability), certification, events and driver training.

Over 400 employees work at two tests centres at Linas-Montlhéry (Essonne) and Mortefontaine (Oise), and also at our customers' sites in France and abroad, or through our subsidiaries in the United Kingdom, North America, Russia and China.